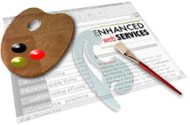 Enhanced web Services uses the latest in advanced technologies to make your website more fun and interactive. We can add custom online forms, guest books, site text search, hit- counters, scrolling news banners, rotating ad banners, plus much more.


ENHANCED web SERVICES offers you choices in website design to meet most any budget. Each site that we design can be guaranteed a high-quality professional look that conveys your information in a clear and meaningful way. Below we offer several solutions to help you build a better online presence on the world wide web:

Custom Website Design
Custom website design offers your business or organization a unique one-of-a-kind presence aimed at building (or supporting) your corporate identity. We can work with you to build upon an existing corporate image or campaign to achieve a parallel identity between your print and online media. If you have not yet established a corporate identity, or wish to create a new one, we can offer solutions to help you achieve a fresh look.

Template Website Design
Template website design can offer your business or organization a professional online presence at a lower cost than a custom website design. You can choose from a selection of templates we have created to assist in designing your website. By eliminating the need to create a custom layout, your website can be produced in a much shorter time frame to keep the cost down. You can still customize the site with your corporate colors and logo to keep your corporate identity.

Existing Website Redesign
We can redesign your existing website to give it a high-quality professional look. We take the existing content (text) from your website and apply it to one of our website templates to give your site a visual makeover. You can also add new content or make changes to the existing material. This low-cost alternative can provide your business or organization a chance to reestablish itself online as a fresh and innovative player on the world wide web.
---
Call ENHANCED web SERVICES today to find out more about what we have to offer in website design at 979-690-9246 or send us an email at info@getenhanced.com.