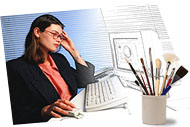 Upgrade your website, presentations, or advertising brochures with custom graphics designed by ENHANCED web SERVICES. We also have the affordable solution for turning your photos, logos, and artistic images into electronic format with our image scanning service.


ENHANCED web SERVICES offers affordable solutions in image scanning and graphic design. We can help you add photos of your products, business or staff, as well as design custom graphics to professionally enhance your website. Take a look below at some of the solutions we offer:

Image Scanning
We can scan almost any size image or photo up to 11" by 17" and save in one of many available file formats, including GIF, JPG, BMP, TIF, TGA, PSD, plus many others. We can send you your images either by 3.5" diskette, Iomega Zip disk, or via download from our website. The basic scan includes sharpening the image and adjusting the brightness, contrast, and overall tones. Additional touch-ups, changes or filter effects can be performed at an additional charge. (Please note that results may vary for images or photos that were taken out of focus or in poor lighting.)

The cost for this service is as follows:
Up to 8.5" by 11" image
$10 for one /
$5 each additional
Up to 11" by 17" image
$12 for one /
$7 each additional
Additional Touch-ups /
    Filters
$Call for a quote
Sent on 3.5" diskette
$1 per diskette
plus $2.50 S&H per order
Sent on Iomega Zip Disk  
$18 per disk
plus $2.50 S&H per order
Download from our
    website
$1 per image
Logo Scanning
Now is the perfect time to convert your business' logo to an electronic format. Use and re-use in computer presentations, websites, documents, artwork, ads, plus many other ways, including turning your logo into a True Type Font. The cost for this service is the same as above; however, depending upon the quality, design and number of colors in your logo, additional work may be required. Contact ENHANCED web SERVICES today for more details.
Custom Graphic Design
ENHANCED web SERVICES can create custom graphics according to your specifications at an affordable rate. Here are just a few of the different types and ways in which to use custom graphics:
Custom Logos
Animated GIF's for websites
Buttons and icons
Pointers and navigational elements
Banner ads / rotating banners
Brand names / product identity
Business Presentations
Seasonal activities
Printed ads or brochures
...plus much more!
---
Call ENHANCED web SERVICES today for a quote on image scanning or custom graphic design at 979-690-9246 or send us an email at info@getenhanced.com.