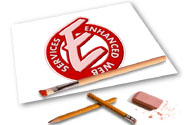 Let ENHANCED web SERVICES scan, custom design, or update your existing logo to enhance your corporate image. We can save your logo in a variety of graphic formats as well as a True Type Font for ease of use in any medium produced on your computer.



ENHANCED web SERVICES offers many solutions to enhance your company or organization logo. We can design a new logo to establish your corporate identity, or expand upon an existing logo by adding color, animation, or an updated look. We can also convert your logo to a True Type Font, increasing the number of ways in which you can use it in letters, documents, ads, brochures, and presentations.

What can we do with your logo?
We can do a lot! Listed below are several ways in which we can enhance your logo:
Custom Design - Based upon your business, style, and image you want to promote, we can custom design your logo to project the corporate identity your business needs to stand out in your industry.

Logo Scan - We can scan your logo and save in an electronic graphic format so that you can use and reuse over and over. Add to your website, brochures, presentations, or in any medium produced on your computer.

Logo Enhancement - We can take your logo scan and enhance the appearance by adding new colors, elements, special effects, or clean up for a professional look.

Logo Animation - We can take certain elements from your logo and create an animated GIF usable on your company website.

True Type Font (TTF) - Take your logo to the next level and turn it into a True Type Font. Save on your company letterhead by using this font at the top of all your business letters and documents. Use in some of the popular graphics programs to add to brochures, ads, banners, or presentations. This font makes an EXCELLENT screen saver when used in the 3D Text screen saver that comes with Windows 98.
Examples
Listed below are just a few examples of custom logos, animated GIF's, and True Type Fonts:
Custom Logos

Animated GIF's

True Type Fonts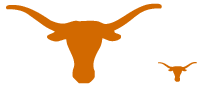 The above logo was created using a True Type Logo Font in Adobe Photoshop. The larger image is 80 point type face, while the smaller one is 15 point type face. Notice that no matter the point size, the font maintains a smooth appearance with no jaggies. If you would like to download this sample font to experiment with, click here.
Pricing
Because each logo and enhancement can vary, there is no set pricing for this service. Our standard pricing for graphics and programming is $90 per hour. Call ENHANCED web SERVICES for a quote.
---
Call ENHANCED web SERVICES today for a FREE quote on your logo design or enhancement at 979-690-9246 or send us an email at info@getenhanced.com.