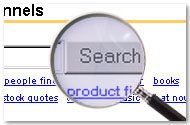 Increase traffic to your website by registering with online Search Engines today. Register your site with 1300 of the top Search Engines, once a month for one full year for only $199.95. Thats only $16.66 per month!



Search Engine Registration






Success on the Internet depends not only on a finely tuned website, but by the ability of your target audience to tune in as well. Bring in more traffic by registering your site with online search engines. Register your website with 1300 of the top search engines on the Internet once a month for a FULL YEAR at a very affordable price of $199.95! Thats only $16.66 per month.

Why Register with Search Engines
With the many millions of websites already online, and thousands more being added each day, your site falls deeper and deeper into the realm of www.can'tfindyoursite.com. By registering you add your website to the selected search engine's list of sites to be spidered, crawled or indexed, thus improving your chances of being found by someone searching for what you have to offer. Most of the major search engines eventually try to index a majority of the sites online, but by not registering this could cause your site to go unnoticed for many many months.
Find Out More!
To find out more about registering your site with 1300 Search Engines and improving traffic to your web site, please click here!
---
Call ENHANCED web SERVICES today to register your website with Search Engines at 979-690-9246 or send us an email at info@getenhanced.com.