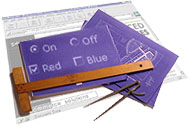 Put your website to work by adding online forms from ENHANCED web SERVICES. When a potential client visits your website and fills out an online form, an email is sent to you with the information they entered. A sure proven method for obtaining sales, information or qualified leads.


ENHANCED web SERVICES offers custom online eForms programming at a very reasonable rate. By adding online forms to your website you offer the interactivity needed to connect with your clients or target audience. No matter what you have to offer-- products, services, or information, we can design an online form specifically for your needs.

Options and Features
For your custom online form(s), the designs and features are almost limitless. We can design a form to match the overall look-and-feel of your website for seamless integration. Some of the features available through standard HTML design include:

How Does It Work?
The custom online form is simply another HTML file added to your website's directory. Here's how it works:
A client/prospect enters information into the form's data fields
When completed, a "Submit" button is clicked to send the information
The form sends the information in a data-string to a CGI program, which then applies the information to a formatted email template
An email with complete information is sent to the email address you specified
The whole process (from the time the "Submit" button was pressed to the email being sent) takes place usually in less than 10 seconds. This is a very quick and cost-effective way to gather leads, sales or information.
Examples
To view an example of an online form, select one of our own below:
---
Call ENHANCED web SERVICES today to find out more about affordable custom online eForms at 979-690-9246 or send us an email at info@getenhanced.com.